We are

Team FaTe

.
Founded in 2019, we are a growing community, and we grow more every day. We are undefeated in clan wars and in wagers, and we have killed famous streamers such as:
---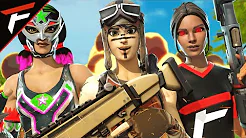 Our goal is to welcome new members to the community so we can get them supporters and get them noticed, because everyone in FaTe is AMAZING.
We have editors and custom thumbnail makers, and we will continue to grow and improve together as a clan, as a team, and as a family because we are Team FaTe (#faterc88)
Follow our #LEADER
---
---
Don't forget to use #faterc88 on YouTube and Instagram to get noticed!